Reverb Communications Inc.
10 лучших плагинов реверберации в мире! (VST Plugins)
25 сентября , 2016
Мы подобрали лучшие плагины реверберации, которые можно использовать в каждом стиле, включая бесплатные версии, классические и алгоритмические модели.
Почему выбор реверберации так важен для хорошего микса?
Реверберация дает ощущение объема и полноты, которое так важно для эмоций. Реверберация неким образом склеивает звуки, делая их единым целым. Не все плагины равны между собой. Различные типы реверберации хороши для разных задач, поэтому маловероятно, что вы будете использовать один и тот же плагин в каждом проекте и на каждом инструменте.
Мы выросли на музыке, которая была достаточно безликой. В то же время не так беспокоились о реализме. Сейчас ситуация кардинально изменилась, и музыка практически стоит на качественной реверберации, отражающей настроение и идею автора.
*Выражения «в конце концов», «лучший» — субъективные, и для каждого музыканта сугубо свои.
Топ 10 плагинов реверберации
1. Лучший бесплатный ревербератор:
Togu Audio Line (TAL)-Reverb-II
TAL-Reverb-II включает в себя классические пластины реверберации с 3-полосным эквалайзером. Плагин имеет приятных интерфейс и нужное количество пресетов. Если вы хорошо разбираетесь в настройках ревербераторов, данный плагин выполнит большинство поставленных задач.
Также стоит отметить TAL-Reverb-III и TAL-Reverb-4. Это последние версии ревербераторов от TAL. Каждый из них имеет свой алгоритм обработки и прилично расширяет возможности музыканта, особенно если нужна бесплатная лицензия. Прочитать подробное описание и загрузить, можно здесь .
2. Лучший импульсный ревербератор: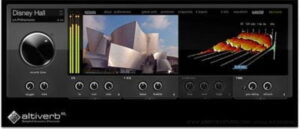 Altiverb 7
Отличный ревербератор, который задает некий стандарт. Он использует импульсы, которые точно передают характеристики любого пространства. Altiverb 7 включает много возможностей и стоит потратить время, чтобы во всем разобраться. Пользователи плагина получают доступ к новым ежемесячным импульсным библиотекам на сайте разработчиков Altiverb 7.
Как альтернативу данному плагину можно рассмотреть HOFA Plugins IQ-Reverb.
3. Лучший ревербератор для звукового дизайна и FX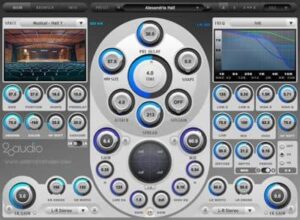 2CAudio Aether
2CAudio Aether, несомненно, занимает одно из лидирующих позиций в алгоритмической реверберации. Дебют данного плагина состоялся на 2009 год и по сути установил новую планку, будучи непревзойденным с точки зрения качества звука, пространства и удобства использования. Да, он имеет сложный интерфейс на первый взгляд, но стоит его покрутить — и все будет предельно ясно. Очень хорошо подходит для эффектов в кино. Подробнее здесь .
Альтернатива данному плагину — Waves H-Reverb.
4. Лучший плагин, продающийся в комплекте
Waves Renaissance Reverb
Об этом ревербераторе можно долго говорить. Длительное время он используется мировыми миксинг-инженерами и не теряет популярности. Он удобен в пользовании, достаточно прозрачно подмешивает реверберацию (без низкочастотного шума) и имеет легкий интерфейс.
Также стоит отметить плагины входящие в пакеты Waves, а именно Waves TrueVerb и Waves IR1.
5. Лучшие плагины с минимальной нагрузкой процессора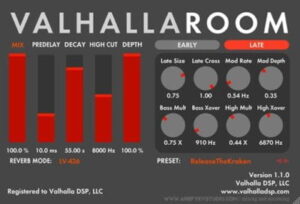 Valhalla Room / Valhalla Shimmer
Если вы не нуждаетесь в сложных обработках и ресурсоемких плагинах для сведения, то лучшим решением будут ревербераторы от компании Valhalla. Они развивают свои продукты с далекого 2011 года и прекрасно себя зарекомендовали.
6. Лучший алгоритмический/цифровой эмулятор реверберации
Lexicon PCM Native Reverb Bundle
Мы можем заполнить практически все категории данного списка плагином от Lexicon, обращая особое внимание на 224 и 480 модели. Тем не менее, официальный пакет программного обеспечения ревербератора Лексикон, использует алгоритмы и пресеты из более современного аппаратного блока PCM96.
Основным конкурентом в ценовой политике является плагин-аналог — ReLab LX480. Оба они дают практически идентичный результат.
7. Лучший ретро ревербератор (он же — ревербератор с «характером»)
Softube TSAR-1
Стоит отметить данный плагин своим мощным ретро-звуком. Хорошо подойдет любителям классики и аутентичного звучания с приятным удобным интерфейсом. Подробнее здесь .
Альтернативной выступит — 112dB Redline Reverb.
8. Лучший пружинный ревербератор

UAD EMT 140
Подобно Лексикону, алгоритмический ЕМТ 140 представляет собой стандарт ревербератора. Большой блок оборудования был выпущен немецким граммофонным производителем Elektro-Mess-Technik (EMT) в 1957 году. ЕМТ 140 — точно эмулирует винтажный звук, при этом имея гибкие настройки и отличное качество.
Как альтернативу, можно рассмотреть Waves Abbey Road Plates.
9. Лучший плагин, входящий в состав DAW программы
Reverb Pro
Производители рабочих станций по прежнему пичкают разнообразными ПО, чтобы увеличить стоимость и гибкость самой программы. Если сравнивать между встроенными в DAW ревербераторами, то стоит отметить Reverb Pro, который входит в пакет Ableton Live. Он импонирует нам больше всего.
10. Лучший ревербератор для электронной музыки
D16 Toraverb

Разработчики D16, пожалуй, наиболее известны своим классическим эмулятором драм-машины TB-303. Ревербератор Toraverb создает пышное и пробивное звучание, а это именно то, что нужно для современной музыки. Подробнее здесь .
Как альтернативу, предлагаем рассмотреть крайне гибкий и творческий — Soundtoys EchoBoy
Об авторе: mix-master
Частичное или полное копирование любых материалов сайта возможно только с указанием ссылки на первоисточник.
Best Reverb Plugins of 2020 [GUIDE]
Listen!
Here's something every sound recording/mix engineer will agree on…
That reverb plugins are a must-have in any complete mix toolkit.
Fact is- reverbs defines the soul of music by giving it that natural touch.
You can think of it as the combination of depth, sense of distance, and space where musical instruments flourish.
It turns out that's all about reverberations.
Now, I guess the question is, "which VST reverb plugins could help your sound design efforts?"
As you may already be aware, there are thousands of products you could choose from.
But, the problems come about when digging through the dozens of options.
Again, as an essential element of every mix and one of the widely used audio effects, reverb plugins come in varying forms and flavors.
To save you the trouble, in this article, we feature a selection of compelling reverb emulating tools that can enhance the detail and natural vibe of your mixes.
10 Best Reverb VST Plugins
01. FabFilter Pro R
Ever imagined getting a highly customizable and open-sound reverb plugin?
If yes, the FabFilter Pro-R could just fit that bill.
Want to know why?
Allow me to explain.
First and foremost, this product was designed with musical touch and intuitiveness in mind.
And so it offers controls that speaks to this reality.
To be specific, parameters such as Distance, Character, and Brightness creates the impression of a complete musical approach.
And don't forget, smart controls such as Decay Rate EQ, Post EQ curves are also available.
You will also appreciate the versatility of this plugin all thanks to the vast selection of modeled rooms/spaces in all manner of shapes and sizes.
But, without a doubt, you'll love even more the signature Retina interface with a large interactive display optimized to ensure seamless operation.
02. Waves H-Reverb Hybrid Reverb
Summing up this list, the Waves H-Reverb opens new dimensions of reverb technology.
Unlike other alternatives pegged on simple concepts, it goes a notch higher by converging classic reverb concepts with some of the most advanced dynamics of digital reverb processing.
The outcome is a versatile, feature-packed, and sensationally-sounding plugin well suited for limitless creativity.
Basically, it rides on a simple yet efficient system called (FIR) Finite Response Technology.
The technique is responsible for more richer and deeper decays with all the liveliness that comes with it.
The FIR engine enables users to shape and customize reverberations with increased accuracy in an effort and beyond ordinary linear forms.
With this, attaining perfect quality that blends well on a mix, comes automatically.
And that's not all, because it includes an incredible library of leading artistic-specific presets as well as inspirations by vintage and contemporary classics alike.
No matter your needs, you have the perfect space option to get started.
Other notable features worth highlighting include Advanced Analog modeling and drive control and EQ and dynamics module for compression, ducking and de-essing.
So if you wish to enjoy the exceptional sound quality and unlimited creative control, you know where to stop.
03. ValhallaDSP ValhallaPlate
Think you have all the best reverb plugins you need?
Well, you could be wrong, especially when the ValhallaPlate is absent in your mixing toolkit.
Why do I say so?
Allow me to explain.
First, unlike its predecessors which modeled vintage digital boxes, it emulates hardware plate reverbs and other initially unheard of plates.
Secondly, it avails up to 12 original modes realistically emulating the physics of plate reverbs.
Even better, all the modes can be executed as mono-in/mono-out, mono-in/stereo-out, or stereo-in/stereo-out plugin.
Beyond that, it improves on ValhallaDSP's heritage with a minimal, resizable 2D user interface.
The UI has a self-serving tooltips section to provide guidance where necessary.
It also gives way to an extensive preset browser tailored to simplify user settings.
Other key features include frequency dependent decay time, variable size and width sound control, not forgetting lush modulation.
All things considered, ValhallaPlate is simply a classic algorithmic reverb too that extends the dimensions to levels that you can dream of with hardware plates.
04. UAD EMT 140 Plate
Generally speaking, UAD's EMT 140 Plate holds the bold promise of producing the lushness very few alternatives can rival.
I could be blowing things up here, but granted; there is justification why UAD is has kept its feet in the game all this while.
To be clear, the EMT 140 Plate emulates three rare hardware counterparts installed at The Plant Studios in California.
And interestingly, the emulation is quite striking, delivering an edge that only natural plate reverbs can achieve.
With this plugin, you can treat your mixes to definitive plate textures like never before.
And apart from priceless natural plate sound, UAD has labored to improve the workflow by including more efficient controls.
Talk of High pass filters, Pre-delay, Two-band shelving EQ, and Pre-delay element, there less more you can ask.
Remember, it has Width, Balance, and Modulation controls to boot.
In short, the EMT 140 Plate is a good pick if you need to treat your instruments or vocals to a realistic sense of natural ambiance.
05. PSP Springbox
Quite simply, the PSP SpringBox is a virtual imitation of a hardware spring reverberator.
Designed to emulate various features expected of spring reverbs such as the notable "boing" on transients and repeatable musical elements with flexible presence, its everything a classic analog emulation.
Are you wondering what makes it tick?
The SpringBox comes with multiple spring configurations, including the ability to control the stereo spread and balance to match different mix setups.
Along with that, it has dual settings system, channel A and B plus a range of presets to ensure control is quick and easy.
And there's more.
For instance, if you need to manipulate high-frequency damping, you have a magical damp knob to make the necessary adjustment.
There's also the High Pass Filter Knob to help keep frequencies in check and let the mic pop.
Most of all, the interface is quite a piece of cake with nothing too overbearing to trick your eyes.
So regardless of where you want to add the ghostly vibe it simply, this is a valuable asset to creative replacement of analog practicalities.
06. ValhallaDSP Vintage Verb
If you are looking for a contemporary plugin inspired by the virtual hardware reverbs of the '70s and '80s, the Valhalla Vintage Verb is worth the moment.
Perhaps you're already wondering about its outstanding features.
Well, to begin with, it is based on multiple mostly Lexicon algorithms depicting various natural spaces offering different characters.
Talk about an array of halls, plates, rooms, spaces and more; it has everything figured out.
Impressively, all the algorithms are subject to the same parameters including Mix, Pre-delay, Decay, Hi EQ, Bass reverb times, shape, early and late diffusion, depth and rate modulation, HF and LF EQ, and color mode.
I could go on and on…
And that's not all. Vintage Verb takes it all out by displaying everything on a clean and scalable interface.
The access is instant with all controls beautifully housed under one new minimalist panel.
Needless to say, the flexibility is enormous.
With this, you can enjoy in-depth creativity based on the nostalgia of dry hardware reverbs of yesteryears.
07. UAD Lexicon 224
For all it presents, this re-make of Lexicon 224 released in 1979 remains a real breakthrough in the art of reverb emulation.
To put things into context, the original digital reverb that has inspired this product in many ways defined sound from its onset.
And it all boils down to its practical slider-based controller and the celebrated lush reverb tail.
Now, this recent re-make adopts the same algorithms and control processor code as the original creation it models.
Think of the great variety of slider controls catering for among other bass and mid frequencies, Crossover, Treble Decay Time, Reverb Depth, and pre-delay.
Don't forget; there's also the stand out Chorus program on drums, vocals, guitars and so on.
All in all, given all its features UAD Lexicon 224 can do a perfect job bringing realness and dynamics of vocals or tracks quite effectively.
08. Audio Ease Altiverb
Are you looking for an original pro-grade convolution reverb?
The Audio Ease Altiverb is in every right matches that description.
At its core are exceptional samples of real spaces.
Specifically, it features a celebrated Altiverb library of acoustics which sample top of the line actual recordings of some of the most wished for spaces around the world.
Imagine anything from the legendary Opera House to a Jumbo jet cockpit, famous concert halls and so much more.
If you need vintage reverb gear, you can sit pretty considering it features a massive selection.
From EMT plates and purpose-built echo chambers such as Beach Boys, you have no excuse getting creating every conceivable classic sound.
Beyond that, it provides multiple parameters for making adjustments.
Notable capabilities to this end include Experimental responses, Stage positioning, EQ, Brightness and chaos, musical gates and delays.
But, perhaps the best part is the automatic recall automation.
You can automate everything, including impulse choices, which is great if you want to achieve more in no time.
09. UAD AMS RMX16
For starters, the AMS RMX16 was the first ever microprocessor controlled full-bandwidth digital reverberator.
And for this reason, it's considered a legend in when it comes to the use of reverb plugins in audio production circles.
Having captured the unique sense of the original easily recognized reverb programs, it has now been polished with improvements in samples and design.
If anything, the design now includes an added set of features including new purpose-built custom controls.
Talk of exclusive Dry/Wet Mix, Wet Solo, and easy click-and-type editing of control and applying different sets of effects, it offers all it takes to harness the natural feel the exact iconic reverb it emulates.
To top it all, it avails presets from talented artists in the industry so you have the perfect pool to draw inspiration.
10. Liquid Sonics Seventh Heaven
Now, for the conscious mix master focused on achieving high acoustic quality, a simple yet extraordinarily powered native reverb plugin would excellent.
To that end, Liquid Sonic's Seventh Heaven is a worthy contender.
Designed with the sole focus of reproducing Bricasti M7's finest reverbs, this plugin excels thanks to power within.
Notably, Seventh Heaven is anchored on breathtaking Fusion-IR processing, which delivers authenticity and quality not easily achievable via convolution technology.
You'll be pleased to know every preset is sampled with incredible detail to allow unmatched flexibility in producing high organic reverbs.
This makes it possible to exercise control over early, low, and late frequency components on organic reverb of up to 30 seconds.
Again, it enables altering crucial parameters, including reflection patterns, full-bandwidth roll-off positions, and frequency dependent decay times.
Interestingly, the extraordinary power is accessible via simple single interface, essentially making it a breeze to find ideal reverb from any of the ensembles.
Think of the best halls, plates, rooms, and so on.
In a nutshell, Seventh Heaven owes its revolutionary capability to detailed multi-sampling and characterization of the native Bricasti M7 reverbs.
The level of accuracy makes a great for wide-ranging mixing projects.
Reverb Communications Inc.
The VS8F Reverb Impulse Response Files.
(FREE High quality professional reverb IR files).
These files are perfect for use in ReaVerb
(convolution reverb plugin contained in REAPER).
VS8F Reverb IR files.
Latest version is: 3.0 (January 31, 2014)
DOWNLOAD THE COMPLETE REVERB IR BUNDLE HERE (Google Drive):
https://drive.google.com/file/d/0B6K. ew?usp=sharing
Note: Click on the «download» button.
(There will not always be a preview page, but the download should work).
DropBox link:
https://www.dropbox.com/s/3nocc237pj. it%29.zip?dl=0
Note: You do not need a DropBox account to download the files.
(You can skip past the sign up page to download the files).
About the VS8F Reverb Impulse Response Files:
This is the complete collection of factory presets
from all three Roland effect expansion boards:
#1. VS8F-1
#2. VS8F-2
#3. VS8F-3
VS8F-1 = 100s
VS8F-2 = 200s
VS8F-3 = 300s
Roland VS8F-1 effect expansion board factory preset list:
100-Reverb
101-LargeHall
102-SmallHall
103-Strings
104-PianoHall
105-OrchRoom
106-VocalRoom
107-MediumRm
108-LargeRoom
109-CoolPlate
110-ShortPlt
111-VocalPlt
112-SoftAmb
113-RoomAmb
114-Cathedral
115-LongCave
116-GarageDr
117-RockKick
118-RockSnare
Roland VS8F-2 effect expansion board factory preset list:
200-R1_Reverb1
201-R1_LargeHall
202-R1_SmallHall
203-R1_Strings
204-R1_PianoHall
205-R1_OrchRoom
206-R1_VocalRoom
207-R1_MediumRm
208-R1_LargeRoom
209-R1_CoolPlate
210-R1_ShortPlt
211-R1_VocalPlt
212-R1_SoftAmb
213-R1_RoomAmb
214-R1_Cathedral
215-R1_LongCave
216-R1_GarageDr
217-R1_RockKick
218-R1_RockSnare
220-R2_Reverb2
221-R2_LargeHall
222-R2_SmallHall
223-R2_Strings
224-R2_PianoHall
225-R2_OrchRoom
226-R2_VocalRoom
227-R2_MediumRm
228-R2_LargeRoom
229-R2_CoolPlate
230-R2_ShortPlt
231-R2_VocalPlt
232-R2_SoftAmb
233-R2_RoomAmb
234-R2_Cathedral
235-R2_LongCave
236-R2_GarageDr
237-R2_RockKick
238-R2_RockSnare
Roland VS8F-3 effect expansion board factory preset list:
301-LargeHall
302-SmallHall
303-Strings
304-PianoHall
305-OrchRoom
306-VocalRoom
307-MediumRm
308-LargeRoom
309-CoolPlate
310-ShortPlt
311-VocalPlt
312-SoftAmb
313-RoomAmb
314-Cathedral
315-LongCave
316-GarageDr
317-RockKick
318-RockSnare
TO DOWNLOAD EACH IR FILE SEPARATELY, CLICK ON THE LINKS BELOW:
Roland VS8F-1 effects expansion board:
Roland VS8F-2 effects expansion board:
Roland VS8F-3 effects expansion board:
Download the VS8F reverb IR user guide here:
A big «thank you» to Tod (here at the forum) for
his help in creating the user guide (PDF file).