Micro Forté Pty. Ltd.
Micro Forté Pty. Ltd.
Разработчики таких портов как
ExaGear Strategies (Heroes 3 Runner) Приложение для запуска оригинальных стратегий с ББ (на данный момент оптимизирован под HoMM_3)
DOOM Также не нуждается в представлении
Heretic
Ответят на Ваши вопросы о своих планах, выслушают предложения, критику и благодарности от Вас, дорогие фанаты классики игровой индустрии.
Здесь запрещено:
Уточнять подробности запуска конкретного приложения, обращайтесь в соответствующую тему
Разводить холивар на тему какая игра лучше других
Любые коммерческие вопросы (сбор средств, спонсирование и т.д.)
Флуд, оффтоп, мат, провоцирование и поддержание конфликтов
ЗАПРЕЩАЕТСЯ НЕ CОБЛЮДАТЬ правила Форума и раздела Трепалка.
Критиковать конкретный проект, соблаговолите в соответствующую тему, и обязательно компетентно и развернуто! (сообщения «Вы фуфло» отправляются модераторам в тот же миг!)
Здесь разрешено:
Предлагать игры которые вы бы хотели видеть на Андроид
Спрашивать о планах
Задавать личные вопросы (представители разработчика оставляют за собой право не отвечать на них в определенных случаях)
Хвалить 🙂 эт мы любим
Собирать коллегии программистов для помощи в решении задач
Также НАСТОЯТЕЛЬНО ПРОШУ не забывать про поиск, дабы не плодить сообщения типа «а *название игры* работает?» Для начала посмотрите в список игр, запущенных на ExaGear Strategies потом попробуйте поиском по теме, и только после этого пишите запрос на игру. Если пишете запрос то сообщайте ОРИГИНАЛЬНОЕ Название, по возможности дополняя ссылками на википедию.
Сообщение отредактировал Vulcanus — 18.06.17, 13:07
Fallout 1 и 2. Если вы это сделаете — это будет эпично. Классика классик!
Сообщение отредактировал po3ueji — 06.10.14, 09:28
MILSTORM ну Jedi Knight Academy Touch запустилась. и прекрасно таки работает. Дело думаю, в оптимизации, все таки. Или я чего то не понял (*просто не знаю)?
Сообщение отредактировал Grafterlog — 27.03.14, 10:23
). НО! Vice City, Dead Trigger 2, NFS MW, ArmA Tactics (и прочее, много чего проверял) работают очень хорошо (в среднем
30 FPS). Может Вы были из первой партии, когда он только появился и не было оптимизации? Меня девайс более чем радует и Я надеюсь что данная среда запуска HoMM3 на Android будет таки оптимизирована))
*оптимизируем оптимизацию оптимизируемую оптимизаторами
Сообщение отредактировал Grafterlog — 27.03.14, 10:42
Armmaster, вот у этого человека получилось запустить DOOM 3 на Android. Может можно как то совместить Его труд с Вашим (по обоюдному согласию, конечно же) и попробовать сделать мульти платформу для андроида айос 2.4 4.2.1 радуга бабочки.
*Quake 1 2 3 и return to castle wolfenshtein кстати тоже удалось (более удачно, нежели DOOM 3)
Сообщение отредактировал Grafterlog — 27.03.14, 12:12
У вышеозначенных игр исходники открыты, поэтому это просто порт на Андроид.
Мы же запускаем x86-бинарники без какой-либо их модификации. Виртуальная x86-машина под Андроид.
Проще понятие относительное. Скажем так, создание некоторого единого пускача хранит в себе много сложностей и нюансов.
Поэтому пока проще переносить каждое приложение отдельно.
Неофициальный краткосрочный шорт-лист такой: Heroes2, Civ3, Fallout 1/2. Но в зависимости от могут быть изменения.
В корне sd-карты лежит файлик x86-stderr.txt. Пришлите его на support собака eltechs.com после того, как словите чёрный экран, с описанием ситуации, версии андроида/ядра и полным наименованием девайса.
Должно работать и так и так.
Было бы прекрасно еще увидеть дьябло 2 и эпоху империй 2 на смартфоне) Кстати, планируется ли добавление различных типов управления, к примеру как в qemu?) Сегодня играл в метро и в очередной раз убедился, что тыкать на объекты неудобно — постоянно в бою промахивался, в итоге мои бойцы просто подходили к врагу, без атаки.. зумировать каждый раз тоже неудобно)
Да уж, идет оно.. я помню еще в позапрошлом году видел анонс, мол выходит скоро) И перед новым годом была новость, что под конец декабря выйдет.. так и со стариться можно, пока дождешься)
Сообщение отредактировал Mephist04 — 27.03.14, 15:08
Действительно, откуда? 🙂 Там что-то-там идет уже скоро два года как, в то время как iPadоводы вовсю рубятся и в BG, и в BG2.
К тому же EE — это несколько видоизмененная и самостоятельная игра (точнее, уже две игры). Мод BGT (Trilogy) не поставишь. Опять же, AkaGloomy прав насчет локализаций — для кого-то актуально. Плюс, возможно, «раннер» для BG подешевле будет стоить, чем EE.
В общем, было бы прекрасно.
А я бы голосовал за Heroes 4.
Да, фанатов у них меньше, чем у третьих, но тоже очень много.
Да и по сути — четвёртая это последние достойные герои.
Пятые — забагованное недоразумение, шестые — кастрированная примитивная чушь типа »адаптация для современных геймеров» , которым по сути герои вообще нафиг не сдались, и никто в них особо и не играл.
Насчёт критики — Имхо, фанаты, если таковые у этих 'игр' есть — не напрягайтесь)
Так что вторая жизнь на мобильных платформах четвёртых героев , которые по сути такая же золотая классика, как и третьи — дело крайне благое.
А то народ вы тут написали..
Диабло-2, Варкрафт-3. Крутейшие игры, согласен, на одной и той же полке почётности, что и Герои , но вы не подумали, что это всё-таки Риал-Тайм? Блин , да те же ПОШАГОВЫЕ Третьи герои , которые на Pentium 200 Mhz летали — на многоядерных планшетах с гигами оперативки идут , мягко говоря, неидеально. А как Диабло с Варкрафтом (которые я обе тоже очень бы хотел на Андроид, но как-то реальней на вещи стараюсь смотреть) будут? И у кого?
У 5-7% аудитории с наиболее продвинутыми и недешёвыми Galaxy Note 2014 и иже с ними. ( Да и то не факт)
А масштабы необходимой титанической оптимизации »раннеров» для такого я даже предположить не смею.
Честно говоря, не верится мне, что какой либо из современных мобильных девайсов способен с приемлемой частотой кадров, без нервов и раздражения потянуть компьютерную RTS или ActionRpg.
По-моему даже виндовые планшеты-то не тянут толком ПРИТОМ ЧТО ТАМ СРЕДА РОДНАЯ и ничего не эмулируется.
Такое вот мнение)
Только герои, только хардкор, только пошаговое , ПОКА, на данном витке развития технологий)
Сообщение отредактировал GiftedPowerfulWinner — 27.03.14, 19:00
ну, понятно, я имел ввиду уровень варкрафта-3. Warhammer 40000 , старкрафт 2 )
Первый старкрафт, как и второй варкрафт, думаю, что вполне реально (да и эмуляторы для них уже примерно с 2011 года существуют, что показательно)
Всё-таки, в один ряд ставить по производительности/требованиям старкрафт-1 и третий варкрафт несколько притянуто, к сожалению. Я бы и сам не возражал, чтобы их работа на девайсах была эквивалента.
Сообщение отредактировал GiftedPowerfulWinner — 27.03.14, 19:54
AIE People
John De Margheriti
Chairman and CEO
John is a true entrepreneur, visionary and one of the most motivated and passionate people in the Australian game development industry. After co-founding Micro Forté Pty Ltd in 1985 (a veteran Australian game development studio), John set out to establish a training institution that would specialise in supplying industry ready artists, programmers and developers for the creative digital industries.
John did this by establishing the Academy of Interactive Entertainment as a not for profit educator in 1996. The campus was strategically co-sited with Micro Forté Pty Ltd and has been producing top quality, industry ready graduates ever since!
Today, AIE has five campuses in Canberra, Melbourne, Sydney, Seattle, Lafayette and Online. The AIE has gained much recognition as a leading educator for game development and 3D animation.
John is also the founder and Chairman of Canberra Technology Park (CTP), the Australian Game Developers Conference(AGDC), and BigWorld Pty Ltd (a Massively Multiplayer Online game middleware company).
John also founded the Game Developers Association of Australia (GDAA) at the inaugural AGDC in 1999, and acted as one of its main financial backers and treasurer until late 2005 when he resigned from the board to focus his energies on expanding BigWorld Pty Ltd. In December 2005, John also announced the closing of AGDC, Australia's most successful and well known Game Developers Conference to provide the GDAA an opportunity to run an industry conference.
Vicki De Margheriti
Vicki has over 25 years experience managing companies and facilitating business and industry growth in the games development, 3D animation and visual FX industries. She is the CEO of the Academy of Interactive Entertainment Ltd (AIE) and has been involved in the operations and strategic planning of all of its business units, including Canberra Technology Park (CTP), as a Director and Co-founder since its inception.
Vicki is a member of the Australian Institute of Company Directors and has been a Director on the board of games studio Micro Forté Pty Ltd and middleware developer BigWorld Pty Ltd. Vicki believes in equipping people with the skills, knowledge and confidence to follow their dreams. She thrives on providing a fun, creative and motivating work environment that is conducive to learning and allowing staff and students to achieve their full potential.
Vicki has seen the AIE grow from a single classroom in partnership with CIT in 1996, to an international success with campuses in Canberra, Sydney, Melbourne, Seattle, Lafayette and Online. She looks forward to managing AIE's future expansion plans and its ongoing contributions to facilitate industry growth in Australia and abroad.
Neil Boyd
Head of School Sydney and Director of Marketing
Neil Boyd has a distinguished career in education with AIE and in the NSW public education sector. Neil, a graduate of Sydney University, joined AIE In 2001 teaching the Diploma of Computer Game Development (Art). As Senior Teacher, Neil led the Game Development course, supported AIE's teaching and learning as well as creating new curriculum and resources. This included developing and delivering AIE's first online courses in 2004 along with writing and managing the accreditation of AIE's Advanced Diploma of Professional Game Development in 2006. Neil became Canberra Head of School in 2006 and established the Sydney campus in November 2008. As Head of School Sydney, Neil continued to coordinate animation and game art curriculum and managed AIE's national marketing efforts. Neil established AIE's Incubator Program to support the growth of Indie games and animation studios in January 2012.
In 2012, Neil took up the position of Director of Business Development and Marketing to support and further grow the Academy within Australia and internationally.
Neil has also worked as a freelance graphic artist, web developer and game designer and produced games and animation for AIIA, University of Canberra, RAAF, and the Australian Broadcasting Corporation. Neil has been involved on various boards, including the Game Developers Association of Australia and is an active participant in various state and federal digital media programs.
Lea Michael
Head of School Canberra and Online
Lea's game industry experience gained working at Micro Forté and extensive project management and programming expertise gained through working on independent game development projects has been an asset to the AIE's programming stream since 2004.
Lea maintains a broadening network of industry contacts and continually hones her programming skills on projects, for clients of the AIE and independent game developers, outside her teaching and head of school duties.
After achieving results that put Lea in the top 2% at her university during 2007, she received the Vice Chancellors Award.
BSc Computer Science
Advanced Diploma of Professional Game Development
Diploma of Information Technology
Certificate IV of Training and Assessment
Certificate II of Screen and Media
Lea loves rats, games, hats and exploring the latest technology in no particular order!
Laurie Costabile
Head of School Melbourne
Laurie is experienced in all aspects of Educational Management and Leadership with expertise in Information Technology, Computer Science and training implementation. He has influenced curriculum development in the private and public sectors with particular focus on emerging industry trends. Graduating from Victoria and Melbourne Universities, Laurie worked as a Analyst Programmer with various organisations and was heavily involved in creative industries within the music arena. With over 20 years experience in education, training and the tertiary sector, Laurie has gained extensive knowledge at choice Universities like RMIT, Swinburne, Melbourne, Central Queensland and Victoria Universities occupying various positions such as Head of school of a very large and progressive Business School, an Associate Director of TAFE, Head of a Business IT Department, a Director of VET Programs and as a Senior Manager of Teaching and Learning. Laurie has also captained a leading privately owned registered training organisation developing strategies and innovative programs in conjunction with industry, international partners and government stake holders. Laurie's other strengths lie in driving compliance, performance management, developing infrastructure strategies, systems development and organisational structures that embrace future educational and industry trends.
Laurie also takes a leading role in a number of external planning and development working parties and committees developing programs for a variety of leading corporations.
Ann-Maree Davies
Head of School Adelaide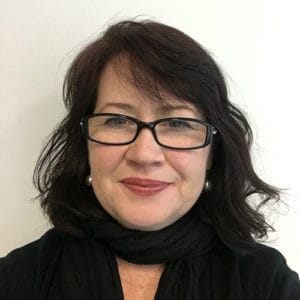 After completing a Degree in Computer Science with a Major in Pure Math, Ann-Maree started teaching Information Technology for TAFESA while completing a Graduate Diploma in Secondary Education. After moving into a teaching role at a prestigious Secondary college in Adelaide, Ann-Maree began her career with AIE in 2012 as a VETiS teacher, delivering the Certificate courses.
After seeing the work being delivered on campus by some of her former students, Ann-Maree joined the Adelaide Campus in 2016 as the Deputy Head of School. Being an avid gamer and seeing the value of real pathways in the sector, this seemed to be a natural progression to work in an amazing industry but maintaining the strong connection with students.
Ann-Maree recently became the Head of School and is eager to continue to grow the Adelaide Campus in the quality of its students education and providing them opportunities in their chosen field of expertise.
Jacqueline McKay
National Facilities Manager
Jacqueline has over 13 years' experience in Project and Property Management within Australia, United States, New Zealand and Asia.
Jacqueline heads up the National Property Team and ensures all of the AIE campus environments are compliant, safe & healthy for the student, staff & visitors. In addition to the Campuses, Jacqueline manages the Canberra Technology Park which houses the National AIE team and works closely alongside the CEO's to 'build' the vision of AIE.
As the National Facilities Manager, Jacqueline is responsible for seeking new Campus locations, fitting out the new space and working with both internal and external parties to create a turn-key solution for AIE.
Previous to joining AIE, Jacqueline worked for Cushman & Wakefield and was contracted to DFAT. Jacqueline was based in Singapore & managed Australian Government owned & leased properties throughout Asia.
John De Margheriti
From Wikipedia, the free encyclopedia
John De Margheriti [born July 1962] is the CEO of BigWorld Pty Limited and the subsidiary Micro Forté Pty Limited. He is also the Founder and Chairman of the Academy of Interactive Entertainment (AIE) and Canberra Technology Park (CTP) and Founder of the Game Developers Association of Australia (GDAA).
Contents
Early years
De Margheriti experimented with CB-Radios and electronics early as a young teenager. During his senior years at Hawker College De Margheriti co-created an amateur 8mm sci-fi film after watching the first "Star Wars : Episode 4" film. During the development of his amateur film, he co-developed a robotics system that would enable him to film complex stop-motion animation footage of large scale spaceship models. His need to create scrolling film credits led him to discover computers as a tool. The film involved dozens of actors and as a result, De Margheriti gained his first taste in management working with actors and prop builders. During filming he also met Steve Wang which would later form the basis of a successful, long standing, friendship and business association. During years eleven [11] and twelve [12], De Margheriti experimented with making computer games independently. He wrote his first computer game called "Maze" on a PDP-11 and his peer, Steve Wang developed a computer game called "Caves", also on a PDP-11 computer.
After college, De Margheriti went on to Study Electrical Engineering at the University of New South Wales [UNSW]. His peer and good friend Steve Wang also went on to study at UNSW in the field of Computer Science. Together they devoted much of their time during University hours to developing computer games. They pooled their money to purchase a Commodore PET . During this time John also met Stephen Lewis and he joined the group, helping make games on the Commodore PET. Their most memorable game that they developed during university years was made for the Commodore 64. Whilst working part time at a computer store [Computer 1] in Randwick to put himself through University, De Margheriti met a gentleman [Gerry Gerlach] who was interested in finding a person who could develop a computer game based on the recent Australian win of the Americas Cup 12m Sailing. After an enthusiastic conversation with Gerlach, John approached his friends at the University and pulled together a team including Steve Wang, Stephen Lewis and John Reidy capable of developing the simulation game. The team spent 72 hours straight developing a demo and successfully pitched it to Armchair Entertainment and won a contract to develop the Americas Cup Sailing Simulation game for the Commodore 64 and Amstrad which was ultimately developed and then sold to Electronic Arts. They named their company Micro Forté as it was the "opposite" of Microsoft [developing games not business systems]. The "Micro" name also signified the use of micro computers and that they were a small group of friends each with a different "Forte" or strength. Soon after starting to develop their first game, Steve and Stephen tactfully told John that his true strength was not programming but managing and winning new projects for the fledgling group. This "truth" ultimately saw De Margheriti become the entrepreneur and strategic visionary for a group of profit and not for profit companies.
In addition to the Americas Cup Sailing Simulation, De Margheriti went on to program two other of games for Electronic Arts including Demon Stalkers and Fireking for the Commodore 64 and IBM PC, which was later released by Sydney based Strategic Studies Group (SSG) http://www.ssg.com.au/
List of games
The Official America's Cup Sailing Simulation
Released: 1986 [ 1 ] Publisher: Electronic Arts [EA] and US GoldFormats: C64/128 and Amstrad
Demon Stalkers – The Raid on Doomfane
Released: 1987 [ 2 ] Publisher: EAFormat: C64/128 and IBM PC
Fire King
Released: 1989 [ 3 ] Publisher: Strategic Studies Group [SSG]Formats: C64/128 and IBM PC
Bombs Away
Genre: Children's Game [ 4 ] Released: 1997Publisher: Emu MultimediaFormats: Windows 95/98
Nordice
Genre: Children's Game [ 5 ] Released 1997Publisher: Emu MultimediaFormats: Windows 95/98
Roy Morgan's Ultimate Survey
Genre: Family Board Game [ 6 ] Released: 1997Publisher: Emu MultimediaFormat: Board Game
Enemy Infestation
Released: 1998 [ 7 ] Publisher: Ripcord GamesFormats: Windows 95/NT
Fallout Tactics — Brotherhood of Steel
Released: 2001 [ 8 ] Publisher: InterplayFormats: Windows 95/98
Hot Wheels Bash Arena
Released: 2002 [USA], 2003 [Australia]Publisher: THQ [ 9 ] Formats: PC/CD ROM
KWARI
Released: 2007Publisher: KWARI LimitedFormat: Multiplayer Online Kwari
Micro Forte Pty Limited
Between 1985 and 1988, De Margheriti turned his focus towards business negotiations and contract development. He co-founded a games development company called Micro Forté Pty Limited; and times were very difficult for the company as the worked tirelessly making games for Electronic Arts, having very little free time.
Then in 1995 De Margheriti came up with the concept of developing a software solution that would somehow group bulletin board services (BBS) together so that many people could play games together. He called this concept Game Net. Game Net was really a precursor to what would later become known as BigWorld Technology. De Margheriti's idea was to allow large scale Multi User Dungeons [MUDs]to be developed where hundreds of people could be playing together in a multiplayer game. He was greatly influenced by an EA friend Danielle/ Dan Bunten who had designed M.U.L.E, Modem Wars as well as a famous game called Command HQ which he often played with Stephen Lewis.
Those seminal games influenced De Margheriti greatly in terms of coming up with the concept of building what is now commonly known as Massively Multiplayer Online Games [MMOGs]. While developing the idea of Game Net, De Margheriti became increasingly more aware of the advent of the Internet particularly after playing Ultima Online and Meridian 59, two of the first Massively Multiplayer Online Games [MMOGs]. He realised that these two games were an extension of the multiplayer games he loved and that in the future many developers would want to create massively multiplayer games, and that an entire industry would be born. De Margheriti decided to switch his focus away from BBS, and instead he made the decision to build a middleware engine that would help developers deal with the complexities of creating these online games. In 1996 Stephen Lewis and John lodged Patents for a Communication System and Method and in 1999 he lodged an application for funding through AusIndustry's R&D Start program and received a multimillion dollar grant. This was subsequently matched by venture capital from Allen & Buckeridge, a leading Australian Venture capital firm. The name of "Large Scale Multi Player Universe" (LSMPU) was originally used to describe the server, client and tools middleware system that De Margheriti had in mind.
The Academy of Interactive Entertainment
In 1996, during Micro Forté's expansion years, there was a need for the hiring of 3D animators and artists. At that time there was a clear lack of knowledge in that area and little or no available talent. De Margheriti decided to establish the Academy of Interactive Entertainment [AIE] as a business unit of Micro Forté to work towards solving this problem. The Academy was to focus on developing 3D animation skills, and a course taught by De Margheriti, Steve Wang and other 3D experts was created for a small group of 10 students.
Later on in 1997 it was spun out as a separate non profit organisation called the Academy of Interactive Entertainment Limited [AIE] to assist the greater industry. De Margheriti had realised that Micro Forté's shortages were not just his shortages; other industry related companies like Beam Software were also suffering a similar fate. The AIE has since grown from a small division of Micro Forté with 10 students, to an independent, nationally accredited, small registered training organisation (RTO) that specialises in education for computer game development and the 3D Digital Content Industry.
The Australian Game Developers Conference [AGDC]
In 1999 De Margheriti realised that to really help the Australian games industry grow, not only for Micro Forté's needs, but to solve the problem that the Nation had, a wider support infrastructure was needed for the Australian industry. He established and launched the inaugural Australian Game Developer's Conference [AGDC] to foster the growth and collective presence of the Australian Games Industry.
The Game Developers Association of Australia [GDAA]
It was at the inaugural AGDC that De Margheriti played a pivotal role in also creating an industry representative body called the Game Developers Association of Australia [GDAA] to increase the profile of the Australian games industry both domestically and internationally. The Australian games industry gradually began to receive recognition, and De Margheriti became widely accepted as the "Father of the Australian Industry". De Margheriti acted as one of the GDAA's main financial backers and Treasurer until late 2005 when he resigned from the Board to focus his energies on expanding BigWorld Pty Limited. In December 2005, De Margheriti also announced the closing of AGDC, Australia's most successful and well known Game Developers Conference to provide the GDAA an opportunity to run an industry conference.
Association of Christian Entertainment
De Margheriti is also a founding member of the Association of Christian Entertainment.
Canberra Technology Park [CTP]
De Margheriti is passionate about encouraging entrepreneurial activity in his local community and to this end, he established Canberra Technology Park (CTP) in 1997, a dedicated business park to facilitate the growth of the computer game development, 3D animation and other information technology [IT] related industries within Canberra.
Honorary Ambassador for Canberra
In November 2000, Mr Gary Humphries the current MLA, Chief Minister at the time, appointed De Margheriti Honorary Ambassador for Canberra — Australia's National Capital, in recognition of his personal contribution in assisting Canberra to develop a significant business base.
De Margheriti continues to foster business growth for start ups, mentor industry rookies and support industry development. He has participated as a guest presenter at many industry conferences; is pro active in seeking government support and assistance for the Australian industry, and features often in industry related media.
Canberra Business Parks [CBP]
More recently [2005] De Margheriti took over the site management of the Capital Region Enterprise and Employment Development Association [CREEDA] Business Centres [Downer, Narrabundah and Erindale] that had gone into liquidation, with an obvious view to negotiate a long term lease on the sites. De Margheriti's main motivation in taking over the defunct sites was to restore an important business incubator function in Australia's capital city, Canberra. The sites were successfully re-branded as Canberra Business Parks (CBP) and in May 2008, De Margheriti largely donated the CBP name [and associated brands] and business, which were now a formidable profitable business [almost operating at full capacity] to the ACT Government and the local business community.
Bigworld Pty Limited
After being heavily involved in the computer game development industry through his own games studios, not for profit organizations and associations for over 20 years, De Margheriti saw an opportunity within the online game market for a definitive MMOG middleware solution. His studios shifted their focus into developing the multi award winning BigWorld Technology which he later [2002] spun out into a middleware company — BigWorld Pty Limited. De Margheriti continues to expand BigWorld's sales and support presence globally.