ARK: Survival Evolved
ARK: Survival Evolved
Узнайте, какие инструменты ВКонтакте помогут сохранить привычный ритм жизни, когда нужно оставаться дома.Посмотреть
ARK: Survival Evolved
Информация
О компании: Русскоязычное сообщество: Новости мира ARK из первых рук!
Текущие даты выхода дополнений из Genesis Season Pass:
– ARK: Genesis. Часть 1 – 26 февраля 2020
– ARK: Genesis. Часть 2
Другое
Действия
Не ограничивайте себя во время самоизоляции!
Узнайте, какие инструменты ВКонтакте помогут сохранить привычный ритм жизни, когда нужно оставаться дома.Посмотреть
1 438 записей
Новости ARK:
Трансфер предметов и дино на карту Genesis будет открыт 15 мая, но с двумя исключениями. Во-первых, трансфер для Титанов с карты Extinction будет закрыт, а во-вторых, будет отключена возможность оседлать Манагарма, Показать полностью… подобно другим летающим существам на карте Genesis. При этом ожидается, что будет доступен трансфер Гиганотозара в качестве противовеса танкующим дино, и будет доступно управление Скальным дрейком, поскольку он менее мобилен, чем Манагарм.
Последние пару месяцев основное внимание разработчики уделяли балансу игры, исправлению уязвимостей и сбоев, а также некоторым улучшениям игрового процесса. В ближайшее время эта работа продолжится, в частности планируются какие-то улучшения в процессе разведения существ и дальнейшие изменения в наградах за миссии и с ящиков с добычей на карте Genesis.
Параллельно с исправлением ошибок и дальнейшими улучшениями игры некоторые члены команды разработчиков заняты подготовкой к предстоящему выходу карты Crystal Isles, который ожидается уже в недалеком будущем!
Больше новостей о уже проделанной работе: vk.cc/atm4MP
Список изменений обновления 310.53 (для сервера):
• Исправлены некоторые случаи зависания и сбоя сервера.
• Включены дополнительные записи в логах сервера для выявления сбоев и остановок.
Список изменений обновления 310.50 (для сервера):
• Дополнительная эвристика мониторинга сбоя сервера и производительности.
ARK: Survival Evolved
In this edition of the Community Crunch, we'll cover the details of opening Genesis Transfers on our Official Networks, the Dupe Protection System, Meshing detection, Third-party software, hardware upgrades for our servers, player dedicated servers for console, Mac, Linux, and we'll touch on what we've been working on recently along with an overview of our focuses over the coming weeks.
Before we dive into that, we'll take a brief pause to acknowledge these unprecedented times for all of us — our team, our players, our families, and yours — things are tough right now and we could all use some support and camaraderie. Now, more than ever, activities like gaming allow us to stay connected and engaged with our community, particularly for those of us practicing social distancing, often in isolation. As a small gesture of appreciation for our extended ARK family, we will be continuing to run 2x rates for the foreseeable future. As we continue navigating our way through these extraordinary and challenging times together, our heartfelt thoughts are with all of you. Stay safe Survivors!
We'll be opening full transfer of items and dinos into Genesis on May 15th, 2020 with two notes. The first note is that Extinction Titans will be restricted from transferring and the second is that Managarmr will be marked as unrideable. In the case of the latter, this decision was made in relation to their close-to-flyer status and their ability to dash through certain missions. We have opted to allow Gigas as they serve as a counter to tanking dinos, and Rockdrakes, as they bring some utility whilst being less mobile than Manas.
Late last week we were able to push out fixes for both the Mac and Linux versions of the game, which should allow those clients to play on the latest servers, with all the latest content. We appreciate your patience and will be working on improving our pipeline to get these out to you in a quicker and more stable state.
Over the past couple of months, we've shifted our primary focus for our regular patches between balance/quality of life and bugs/exploits. The past few weeks have been primarily dedicated to bugs and exploits in this regard. We've also been working on various crash fixes. We plan to pivot back to further balance and QoL improvements soon, including a pass on breeding to improve player's experience and further tweaks to mission rewards and crates on Genesis.
The last time we spoke about our efforts to combat cheaters, we unveiled our work on our Anti-Meshing systems which focused on detection and prevention. After rolling out the system entirely, we saw a 90% reduction in overall meshing cases across the board. Since then, we've continued the fight against the various ways that underhanded survivors try to cheat on the ARK, and we'd like to give you an update on that fight.
Our Anti-meshing Detection System is proving effective and we're continuing to see a vast decline in incidents. Like all exploits/cheats, this is an ongoing battle and here's our latest progress:
As you can see the battle against meshers is not over, but cases remain low and will continue to decrease over time. Some of the additional changes we've been working on have included:
Improvements to the Anti Meshing detection system. This has involved being able to detect meshing in new areas of the map, as well as eliminating false positives and refining the system where edge cases could slip through.
Level Design changes across all maps which focused on filling in holes and ensuring that collision has been set correctly to prevent players from entering unintended playable areas of the map
Tackling mesh-methods head on to prevent players from being able to get into the mesh in the first place
Initial rollout of the Anti Mesh Biting solution on all platforms, to prevent creatures from attacking through the mesh. Still early days so far, but a lot of the primary methods of mesh biting have been eliminated and we'll be continuing to monitor for new methods and reports to squash them too!
We really appreciate and want to thank the ARK community for the reports and support, as the information provided helped us to improve the system overall. Keep it coming guys! <3
Similarly to meshing, this has been another hot topic that has plagued the game. In one of our most recent updates, we were able to release a system to identify duped items (in some cases retroactively), as well as prevent many instances of duping from occurring in the first place. It's still early days, but so far the results have been outstanding, as we're sure some of you have seen. The system is still being monitored by our team and we'll continue to iterate on improvements where possible whilst having our enforcement team dish out harsher punishments.
Fixing bugs and exploits has been the main focus of our most recent patches. We'd intended to push out some patches focusing on balance but they were put on hold whilst we address what we consider to be more pressing issues.
Examples exploits we've fixed recently include:
Fixed an exploit with the Rock Drake
Fixed an exploit that allowed mission creatures to be used in unintended ways
Fixed an exploit which allowed certain creatures to attack structures through walls
Additional server-side protection against exploits
Fixed an exploit with turrets and ziplines
Fixed an exploit with meshing and the cruise missile
Fixed an exploit that allowed you to get under the map.
Fixed a mounting exploit with Magamasaur
And there's definitely more if you go through the rest of the patch notes, as well as a whole host of bug fixes! [ark.gg]
We know that the patch notes regarding exploits aren't super detailed. We typically just reference the object surrounding the exploit and that is because we prefer to hold these cards close to our chest, especially to prevent these methods from being exploited on unpatched Unofficial servers.
We recognize that some of the auto-responses on tickets could be worded in a more precise manner so as to mitigate confusion and we'll be working with our GM's to update them. Something we'd like to clarify is that an auto-response with the ticket being closed does not denote that the case isn't being investigated. It means one of the following:
enforcement action has taken place
an investigation is ongoing
no further information from the reporter is required.
Our enforcement team (GM's) does not disclose the outcome of player reports for player privacy reasons but rest assured that if a reported player or tribe is found in violation of the Code of Conduct, the enforcement team will be taking the necessary action against them.
For those wanting to report a player for breaking the code of conduct [survivetheark.com] on an Official Server, it can be done so here [support.survivetheark.com] .
Over the past few months, we've seen a spike in our CCUs across the platforms, which usually leads to a spike in cheaters too. In particular, on PC and Crossplay servers, we've witnessed a rise in aimbot reports and the team has been working hard with our partners to combat the use of third party software.
For some additional insight into the cycle of fighting against aimbots, this is usually what happens: We notice an increase in the number of aimbot reports, we work with our anti-cheat partners to identify and detect the new software and once that has been done, we'll issue a ban wave and punish cheaters accordingly. Following this, we'll see a slight dip in the frequency of aimbot reports on our Official Networks, until either new software is released or older software has been updated, and then we repeat the process again of identification, detection, and punishment. This cycle can be as long as a few weeks, or as short as a few days. It's a constant cat and mouse and our team is working diligently with BattlEye in order to detect new third party software and keep our officials as safe from cheaters as possible. In addition to that, we have also ramped up our enforcement measures, including, not only player bans but full wipes of tribes associated.
In regards to Crossplay specifically, we've recently implemented and improved our systems & heuristics to identify those using malicious third party software and it is proving effective. Over the past week, our enforcement team has wiped multiple tribes and banned a large number of players on our Crossplay servers with more to come very soon. We'll continue to enforce hard against these cheaters.
As a reminder, the Eggcellent Painting contest is ongoing. There will be two competitions with a prize for the winner of $100!
In-Game Painting
Real-life Egg Painting
The entries will be judged by our community team. Submissions are limited to three eggs per survivor, so choose your best egg. You'll have the month of April to enter, with April 30th being the final day to enter. Submit your images in the comments below, and we look forward to seeing your creativity!
Click here for more details and enter your painting for a chance to win [survivetheark.com]
Along with continuing to squash bugs, improve performance, and address any exploits that may arise, we will be working on planned balance and QoL for the Live Game. Some of the team are busy working on the upcoming Crystal Isles map and a unique new creature. We're excited to release Crystal Isles on our Official Networks in the not too distant future!
Want to introduce your friends to the world of ARK? Right now, the ARK: Survival Evolved Explorer's Edition Bundle is available for 75% off on Steam! The Explorer's Edition gives you access to the base game as well as the Scorched Earth, Aberration, and Extinction Expansion Packs.
Go grab your copy now!
As mentioned above, we've enabled 2x XP, taming, breeding, and harvest. We'll continue to run these rates for the time being as a gesture towards our community as we all deal with the isolation and stress during these tough times.
That's about it for this Community Crunch. Stay safe and take care!
Скачать игру ARK: Survival Evolved [Новая Версия] на ПК (на Русском)
by DEMA · Published 02.03.2020 · Updated 02.03.2020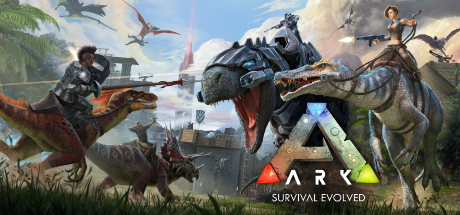 ARK: Survival Evolved (АРК: Сурвайвл Еволвед)- мультиплеерный проект на тему выживания в опасном мире, где твоими соперниками будут не только дикие животные и природные условия, но и другие игроки. Ты отправишься на огромный остров, который необходимо тщательно исследовать, найти полезные предметы и построить максимально безопасное убежище. Здесь ты сможешь сплотиться в команду с другими игроками, а затем распределить обязанности, так справляться с трудностями будет намного проще. Броди в поисках воды и пищи, а также старайся найти все необходимое, чтобы обеспечить себе максимально комфортную жизнь. Вокруг бродят другие выжившие, которые то и дело, что захотят отобрать у тебя твою добычу. Будь внимателен и создай себе мощное оружие, чтобы расправиться с толпой соперников. Постоянно следи за своей экипировкой и состоянием здоровья. Борись с другими племенами, а также защищался от нападения огромных динозавров, которых также будет возможность приручить, если ты будешь действовать правильно.
Добавлено дополнение Genesis Season Pass v306.78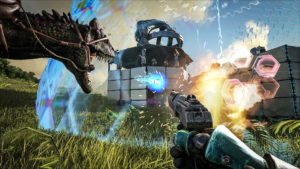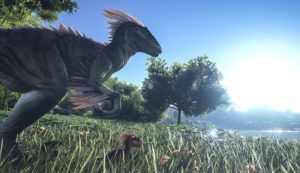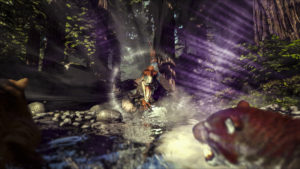 Информация о игре Год выпуска: 2017
Жанр: Экшены, Приключенческие игры, Инди, Многопользовательские игры, Ролевые игры
Разработчик: Studio Wildcard
Версия: 306.78 Полная (Последняя) + Все дополнения (DLC) + Genesis Season Pass
Язык интерфейса: английский, русский
Таблетка: Присутствует
Важно
Какой фикс выбрать?
— Для сетевой игры ставьте «для сетевой игры — Нужен Стим».
— Для одиночной игры — работает всё. (кроме сетевой игры, соответственно).
Как играть по сети:
Открываем Steam и входим в любой аккаунт.
Запускаем игру файлом ArkSurvivalLauncher.exe.
Как Подключиться к игре:
В главном меню лаунчера выбираем подходящий сервер и жмём по нему дважды.