1 Step Software, Inc.
1 Step Software, Inc.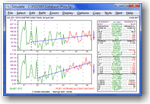 Software with the power to maximize customer service while slashing inventory
Designed for companies with both a substantial inventory investment and a need for high customer service. Ever wonder how your toughest competitors manage their inventory, customer service, demand forecasting, and expediting so successfully? It's simple, they use FGS. FGS—The Finished Goods Series—is the world's most capable demand forecasting and inventory planning system. Designed from the ground up to interface quickly and easily with other systems (ERP, MRP, OSB, WMS, etc.), standard or custom, FGS can sharpen your competitive edge.
How do you know if you need FGS?
Since 1983 E/Step Software has been working with companies just like yours. Every one of these companies has come to us with one or more of the following concerns:
Don't expect your ERP system to solve these problems.
Unlike large ERP systems with their wide-but-not-deep approach, FGS is narrow in scope but incorporates far greater depth than any other system today. Customer service is too low
Inventory is too high for most products
Inventory is too low for some products
Our demand forecasts are inaccurate
We spend too much time expediting
We can't afford to match our competitors' high service levels
Cash flow is a problem with so much tied up in inventory
Our low turns are hurting profitability
Our warehouse is too small
We don't have enough manufacturing capacity
If any of these sound familiar, FGS can help.
Who uses FGS?
FGS is used in a wide variety of industries including manufacturing (both process and discrete), distribution, service parts, and service shops, among others. For manufacturers it applies to both the make-to-stock and assemble-to-order environments; for distributors, both the central warehouse and the direct ship environments. FGS is used by companies both large and small, from Fortune 50 conglomerates to small privately held businesses. Essentially FGS can help any company carrying more than about $1 million in inventory.
Why do our clients love us?
E/Step Software gives top priority to satisfying its customers. One aspect of this is that all our technical support representatives, consultants, instructors, and programmers are engineers with several decades of experience in this field. Another aspect is the emphasis we place on achieving the greatest possible flexibility and depth in our software. The rave reviews we receive in all of these areas are proof of the success of this approach. An additional proof is that our first client—from 1984—is still an active and enthusiastic user of FGS. Clients may change out their ERP system, but they keep using FGS.
Clients also love us because of the results FGS achieves: greatly reduced inventory and expediting while delivering higher levels of customer service and forecast accuracy. Inventory savings are typically 30% and sometimes as high as 75%.
Implementing FGS
Here are some ideas to help you reach your decision.
FGS Quick Facts
Totally focused on forecasting and inventory planning
Windows-based, graphics-rich
Easy to use, comprehensive and extremely flexible
Easily integrated with existing systems such as Oracle, SAP, JD Edwards, etc.
User-level interfacing tool to talk to any system, standard or homegrown
Both interactive and batch operation (via scripts, with script recorder)
The primary modules in FGS are used by all FGS users.
Demand Forecasting—Build initial forecast models from demand history data, to generate a time-phased estimate of future demand on any user-defined calendar out to any horizon. Use SPC techniques to flag questionable forecasts. Graphically review/override selected forecast models. Measure the impact of the new forecast models on inventory investment.
Inventory Planning—Calculate safety stocks (and lot quantities) required to achieve service targets. Simulate alternative inventory/service strategies to get the right service for the right price. Optionally drive safety stock down to intermediate or raw material levels.
Database—Import/export data from your other systems. Add your own database fields to make FGS fit your processes. Query your database to learn about your products' forecasts and inventory plans. Automate your processes with scripts. Publish results to company-wide databases.
If you don't already have a Master Scheduling, MRP, or DRP system, you can use the optional FGS modules:
Replenishment Planning—Establish order policies to model your replenishment processes. Based on your current quantities on order and on hand, generate time-phased replenishment plans. Drive master warehouse demand based on net requirements from satellite warehouses. Drive component plans down through the bill of materials based on net demand from their parents. Action messages warn of inventory imbalances. Summarize inventory projections for management.
Distribution Planning—Establish transfer orders to balance the satellite inventory with the master inventory. Action message recommend changes to the shipping plans. Fair-Shares Allocation recommends shipments.
Software Inc. скачать торрент (последняя версия)

Software Inc. – один из лучших симуляторов IT-бизнеса. Тут вы сможете создать свою собственную IT-компанию, построить офис, заработать денег на производстве программного обеспечения и создать самую настоящую империю, наподобие того же «Microsoft» …
Сама механика игры построена на поэтапном развитии и простейшей схеме развития. Сначала с помощью специального редактора вы создаете персонажа, аватар, в роли которого и будете играть. Редактор позволит вам настроить аватар на свое усмотрение, выбрать пол и многое другое. После этого вам нужно будет обзавестись небольшим офисом. Но не стоит сразу же пытаться построить огромное здание с кучей этажей и кабинетов – все равно денег на это у вас не будет в достаточном количестве. Так что, строим небольшой офис и продолжаем…
Строим офис, наполняем его всем необходимым оборудованием, нанимаем персонал и специалистов, и берем первый относительно недорогой заказ, с помощью которого можно будет заработать себе и компании имя.
Создание IT-продуктов в Software Inc. основано на четырех этапах. Первый этап – дизайн будущего продукта. Для этого у вас в офисе должны присутствовать специальные люди. Дальше идет второй этап – разработка. Третий этап – исправление ошибок и тестирование. Ну и четвертый этап – релиз и маркетинг. Казалось бы, все просто: взяли заказ, отправили специалистам и получили на выходе готовый продукт. Но на самом деле все намного сложнее.
Во-первых, вам придется заниматься социальными вопросами в офисе. Во-вторых, придется постоянно заниматься самими специалистами – они нуждаются в обучении, поднятии уровня квалификации и пополнении штата. Ну а в-третьих, все и всегда будет упираться в деньги. Ваша задача сделать так. Чтоб на очередной заказ ушло денег меньше, чем вы получите от заказчика, чтоб капитал рос, а вместе с ним росла и ваша империя. Думаете справитесь? Тогда вперед!
У нас вы можете скачать Software Inc. торрент последнюю версию бесплатно на компьютер.
Ещё можете скачать HardWare Mod! на русском (добавляет в игру создание материнских плат, видео-карт, озу и т.д.):
HardWare Mod скачать (Клик) Системные требования
ОС: Windows 7, 8, 10
Процессор: Dual Core (2.4 ГГц)
Оперативная память: 2 Гб
Видеокарта: 512 Мб
Место на диске: 1 Гб
Год выхода: 2015
Жанр: стратегия, симулятор
Разработчик: Coredumping
Тип: Пиратка
Версия: Alpha 11.5.10 (Последняя)
Язык интерфейса: русский, английский
Таблетка: Не требуется
EstlCam Basics
EstlCAM is for generating GCode.

This software seems to do everything I want. It also seems to be translated into every language I've ever heard of, if not you can add translations in the software. The installer is in German I think but the options are easy to understand. Please buy a copy if you find this works for you.
Step one – Install Estlcam
Install Estlcam. Using the default options in the installer, add Icon to start menu and desktop. The first window that pops up I set the language, change the display units, and set it to show the feed rate in mm/s on the tool popups.
After you click okay close Estlcam and restart it to update the settings.
Step 2 – Setup
After restarting Estlcam, open the setup tab, these are the settings from the first window plus a few extra.
Changing the clearance plane to something a little smaller really speeds up a job since the z axis is the slowest. This is how far above the material it should travel to before it moves. You should change the milling direction depending on what kind of material you are cutting, more on this in another post. Setting the z-axis origin to the top of the material makes it easy to set the home position, along with that is program start – at origin. Choosing to end the program "above origin" is safe, "above last position" is the fastest.
The creator of Estlcam recently updated his software for us! In the CNC Program Generation tab, choose Marlin (if you are using my firmware).
1-Important – Set feed unit to mm/min- (this is what the marlin firmware needs).
2-Change the file extension "gcode" so all the programs recognize it.
3-10/23/19 – Uncheck Arcs G02/G03
Next up is the travel feed rates. 2100/60=35mm/s, 480=8mm/s (keep the Z low)
I delete all the default tools and use this as a conservative test speed setting for an 1/8″ flat endmill in wood. Do not exceed 8mm/s in the z plunge field unless you know what you are doing and know what firmware limits you have.
You are ready to generate some GCode.
Step 3 – 2D gcode, Good for pen plotting or 2D milling (cutting things out)
Grid Size. DXF files are crazy sizes sometimes so to make sure your DXF is the right size change the grid. Found in View>Grid I set mine to 10mm or 25.4mm=1in.
For this 2D or 2.5D work .DXF files are used. You can use any vector program to make them, illustrator, SolidWorks, etc. Get some files from here, (Need a new source, sorry).
I used this one in the video, Crown Vector.
Open DXF. File>Open – If your DXF is completely the wrong size try again with different initial units.

This is what the crown looks like imported in inches as the initial units. This is whatever units you save your DXF as.
Step 4 – Scale / Re-Zero
The crown imported at about 55mm wide I want about 150mm wide.
Select>Resize>Drawing Layers, then click on the DXF to select it. I scaled the crown 250x to get it to 150mm (5 3/4″). Zoom out to see your DXF.
Zero>Create arbitrary point, then select outside of the DXF paths. This is how to set your origin (or Home). The little blue plus symbol is what your machine sees as 0,0 (x=0, y=0, generally the lower left corner of your work). When you start your program the machine will work to the right and above where you start it from (represented by the blue plus). Some people like to work from the center for round or oval objects.

Step 5 – Select the tool paths
To use the pen you want to drawn on the line so use engrave (tool centered on line), if you were cutting a part you can choose part (tool edge on the outside of line), or cutout (tool edge in inside of line). Click Engrave then just click on each line segment.
Step 6 – Save
Export. File>Save CNC Program. Give it a name. You will get a depth popup, for the pen I use 1mm or less, anything else set it to the thickness of your material plus a bit to cut all the way through. You can then preview the path.
Step 7 – Control Software
Open repetier-host. load the .gcode (or .nc , .ngc) file you just saved. If you have the bed size adjusted you can get a sense of scale. If you can't see the lines check the box Print Preview>Show Travel moves.
View it from the edge and you can see, that the path is below your z-home, and the movements are above z-home.
Don't pay any attention as to where it is shown on the bed. It will start where ever your head currently is.
Step 8
Start. Put the tip of the pen (or tool) a hair above where you want it to start and hit run. It should pick up, move, drop down and go. If it goes down first and doesn't pick up between moves your z axis is backwards. Flip the plug.
Test File
Test Crown 12mm/s– If you are having problems try this one (If you are having download issues -Right click- Save as.).
Final
This all it takes to plot with a pen or do basic 2D (2.5D) milling, some of the most common things this type of mill is used for. Make sure to adjust your tool and its settings depending on the material in use. Always do a test cut!
Here is an old video, the new pen holder has a built in spring so you will get even more consistent results.